November
Prof. Dalton has received the research promotion prize of the Vogel Foundation, worth €25,000. Congratulations!
Main Post, 12.11.2020
October
Interview with Prof. Groll about the new research building CPL:
Main Post, 26.10.2020
November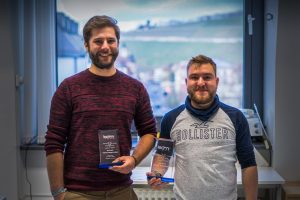 FMZ participates in EU-funded joint project BRAVƎ:
BRAVƎ is an international research initiative aimed at the regeneration of heart tissue after a heart attack.  The project brings together the latest scientific and technological advances in bioengineering or regenerative medicine such as 3D printing, biomaterials, and stem cells, as well as computational modelling to fabricate a biological device able to pump alongside a damaged heart, thus providing functional support.
Under the leadership of the Clínica Universidad de Navarra (Spain) and together with twelve other European institutions, the FMZ is co-operating in the project financed by the EU Horizon 2020 Programme with a total of €8M.
October
September
August
FMZ at ACS Fall 2019 National Meeting and Exposition in San Diego
July
FMZ retreat in Oberelsbach
June
7th June: The FMZ congratulates Michaela Rödel for the successful defence of her Doctoral thesis!
"Development of Dual Setting Cement Systems as Composite Biomaterials with Ductile Properties"
May
Biofabrication: New Resarch Center

The University of Würzburg plans to build a "Center of Polymers for Life (CPL)". Rating the new project as excellent, the German Council of Science and Humanities has recommended its implementation. The new building is set to be located on the JMU Hubland campus on a 1,570 square metre plot next to the Center of Chemistry and is estimated to cost around EUR 23 million plus another four million euros for large appliances and the initial equipment. Construction is expected to begin in 2020 and to be completed in 2024.