September
Congratulations to Ezgi Bakirci – ISBF Young Scientist Awards Winner – Biofabrication 2021
July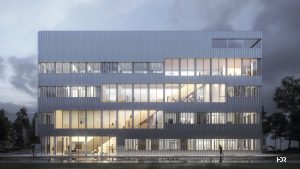 The Committee on State Budget and Financial Affairs of the Bavarian State Parliament granted the official building permission for the CPL (Center of Polymers for Life) research building at the University of Würzburg, which is unique in Germany, in its meeting on July 14, 21. The four-story building, which will cost around €30 million, will be financed in equal parts by the federal government and the state of Bavaria. Starting in 2024, the building will house approximately 80 coworkers on 1000 m2 of laboratory space and 500 m2 of office space, which will be used by researchers from a wide range of disciplines (chemistry, medicine, materials science, biology, computer science and engineering). The goal is to make 3D printing useful not only for medical device technology, but also for the build up of living human tissues. Construction will begin this year with an official groundbreaking ceremony on Oct. 25th and will be completed in just under three years.
June
Interview with Prof. Groll, published on the website "Research in Bavaria" of the Bavarian State Ministry of Science and the Arts: He talks about Würzburg as a research location for biofabrication, the newly founded Institute for Functional Materials and Biofabrication (IFB) and the planned Center of Polymers for Life (CPL).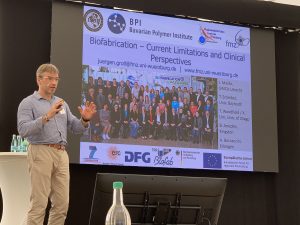 17 June: Symposium led by Prof. Groll: "3D printing: What medical professionals expect – questions from everyday clinical practice".
"Biomaterials and Biofabrication: Design, Engineering and Innovation": The University of Bayreuth offers Massive Open Online Course (MOOC) on the international online learning platform edX. Prof. Groll contributes as an expert: https://www.youtube.com/watch?v=0Ad5kZ6r5vM
May
Congratulations to Sonja Horvath on successfully passing her doctoral exam!
April
Technical regulation for bioprinting:
Prof. Jürgen Groll and Dr. Hanna Hartmann (NMI Reutlingen) have taken over the chairmanship of the newly founded VDI Guideline Committee 5708. The committee aims to define standards and norms for the devices and bio-inks used in the research field of bioprinting.
March
Congratulations to Florian Pinzner and Almoatazbellah Youssef on successfully passing their doctoral exams!
February
Prof. Gbureck and Prof. Kübler from the Department of Oral & Maxillofacial Plastic Surgery recieved funding from the DFG on the topic "Mineral bone adhesives with isocyanate modified prepolymers as adhesion promoters". Congratulations!
We congratulate the dentists Melissa Jung and Sandra Hinderer (doctoral supervisor Prof. Gbureck, respectively) on their successfully completed doctoral examination.
January
PhD training in communication and (self)-leading: Current workshop-process from Jan. – June 2021
ZEIT Campus, January 2021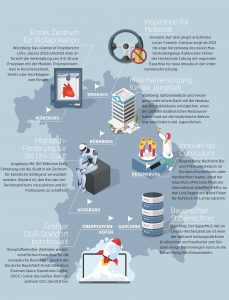 : Top level research in Bavaria: The "Center of Polymers for Life", which is being built in Würzburg, is part of the federal state's outstanding research infrastructure.
December
During the last years the FMZ and the Hartmann AG had a cooperation to develop hydrogel based wound dressings. Now Hartmann launched a new product this year (HydroTac transparent) where we were involved in the developing process. This product is now also ready for approval by the MDA (Medical Device Autority) and FDA.

November
Prof. Dalton has received the research promotion prize of the Vogel Foundation, worth €25,000. Congratulations!
Main Post, 12.11.2020
October
Interview with Prof. Groll about the new research building CPL:
Main Post, 26.10.2020
November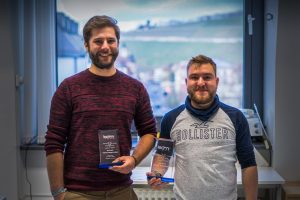 FMZ participates in EU-funded joint project BRAVƎ:
BRAVƎ is an international research initiative aimed at the regeneration of heart tissue after a heart attack.  The project brings together the latest scientific and technological advances in bioengineering or regenerative medicine such as 3D printing, biomaterials, and stem cells, as well as computational modelling to fabricate a biological device able to pump alongside a damaged heart, thus providing functional support.
Under the leadership of the Clínica Universidad de Navarra (Spain) and together with twelve other European institutions, the FMZ is co-operating in the project financed by the EU Horizon 2020 Programme with a total of €8M.
October
September
August
FMZ at ACS Fall 2019 National Meeting and Exposition in San Diego
July
FMZ retreat in Oberelsbach
June
7th June: The FMZ congratulates Michaela Rödel for the successful defence of her Doctoral thesis!
"Development of Dual Setting Cement Systems as Composite Biomaterials with Ductile Properties"
May
Biofabrication: New Resarch Center

The University of Würzburg plans to build a "Center of Polymers for Life (CPL)". Rating the new project as excellent, the German Council of Science and Humanities has recommended its implementation. The new building is set to be located on the JMU Hubland campus on a 1,570 square metre plot next to the Center of Chemistry and is estimated to cost around EUR 23 million plus another four million euros for large appliances and the initial equipment. Construction is expected to begin in 2020 and to be completed in 2024.