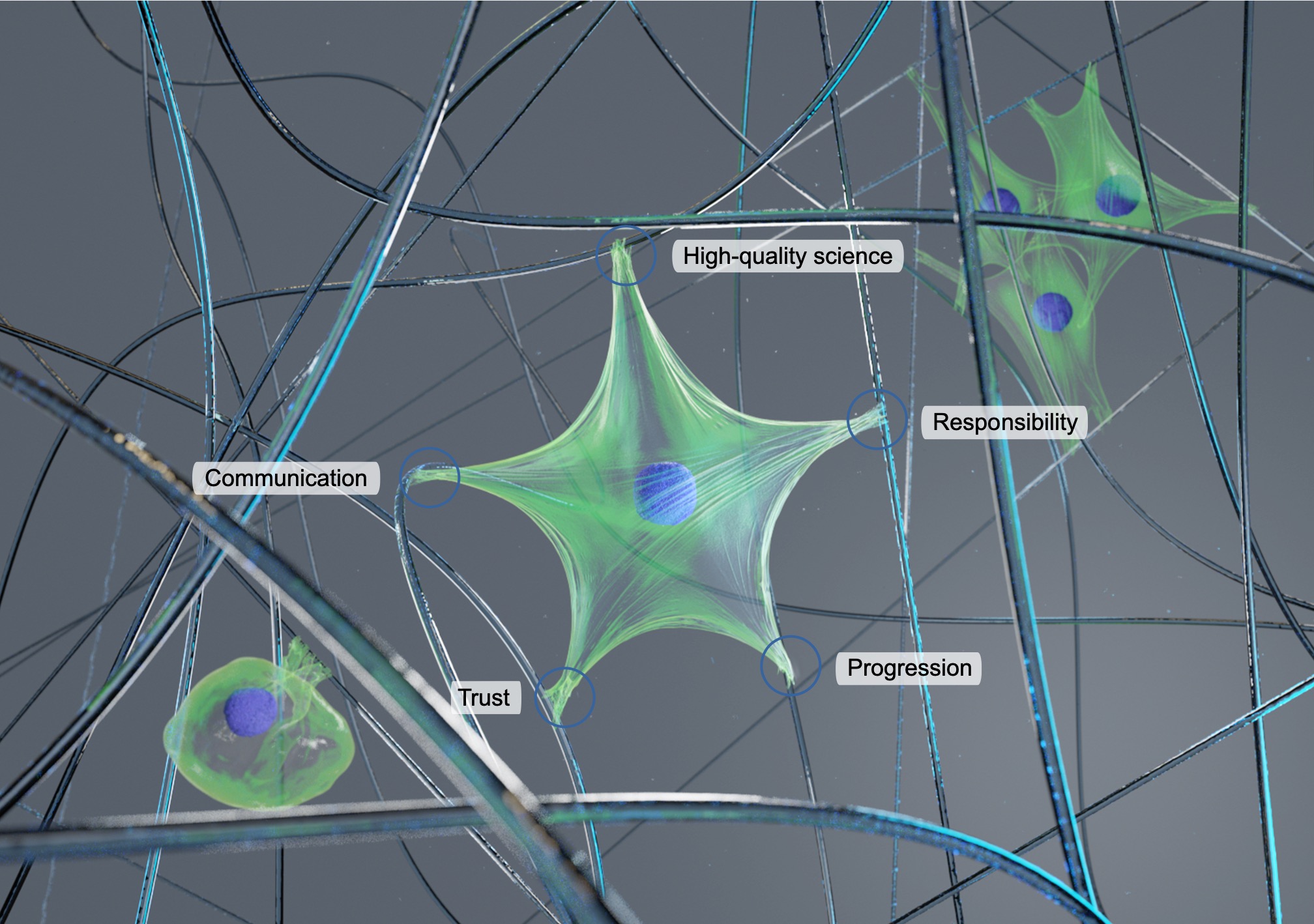 PREAMBLE
Our chair is part of the Institute for Functional Materials and Biofabrication at the Julius–Maximilians University of Würzburg. We are an interdisciplinary team that develops innovative bioactive materials for applications ranging from fundamental biomedical questions to human applications.
We aspire to conduct scientific research and teaching of the highest quality. To maintain our high standards with great efficiency, we rely on an integrative leadership style.
The basis for this is a common set of values that all employees can identify with. Equal opportunities for all our employees, as well as the attention and promotion of their professional and personal development, are important to us.
HIGH-QUALITY SCIENCE
Our claim is science and research at the highest international level. We demonstrate this by regularly publishing our research results in recognised scientific journals and acquiring external funding in competitive and peer-reviewed procedures.
To achieve this, we constantly put our work in the international scientific community and critically evaluate results. We analyse experimental results transparently and without bias, and develop our projects with curiosity and creativity. Thereby we gain insights into new research questions and develop novel approaches to effectively solve problems.
"The quality of a researcher is not measured by the number of answers he gives, but by the quality of the questions he asks."
Aba Assa

Sense of RESPONSIBILITY
For us, this means that our employees see themselves as individuals that are acting as a part of the larger department community. In this context, it is of central importance to develop an awareness of the effects of one's own actions and behaviour. This includes, among other things, reliably fulfilling obligations and adhering to agreements.
Responsibility, for us, also means that everybody contributes to a climate of mutual support to maintain a pleasant and productive working environment. These responsibilities are also reflected in teaching, supervision, and interactions with collaborators, external funding agencies, scientific communities, and the public.
PROGRESSION
For us, continuous development, both on a professional and personal level, is non-negotiable. Curiosity, courage, and the willingness to tackle new challenges form the foundation for this in each individual.
An important component is the recognition and promotion of existing strengths and potential. To achieve this, we meet each other openly and provide mutual support. In this way, we create an environment in which everyone has the opportunity to grow and to achieve their maximum potential.
"Life is like riding a bicycle. To keep your balance, you must keep moving"
Albert Einstein
TRUST
The foundation of our mutual trust is the personal integrity of each individual, as well as honesty towards oneself and in our dealings with each other. Acting in accordance with the core values of our department enables open communication and good cooperation across all hierarchical levels.
We also promote the trust that others have in us by achieving our goals of excellence, creativity, and recognition in research and teaching as well as through our commitment to good scientific practice.
COMMUNICATION
At our chair, all employees encounter each other in a respectful and unbiased manner. Communication takes place openly, regardless of hierarchy. Depending on the situation and topic, discussions are planned in an appropriate setting and in a language that is understandable to everyone involved.
Our goal is direct communication to keep each other up-to-date and to support the advancement of our common ideas. A professional exchange of controversial arguments is facilitated by a result-oriented atmosphere that is open to compromise. This is how we drive our scientific and individual development without disregard for personal circumstances.
"What is thought is not yet said,
what is said is not properly heard,
what is heard is not properly understood, what is understood is not always accepted, what is accepted is not always applied, what is applied is not always kept."
Konrad Lorenz
chemical synthetic laboratories
physical laboratories
material testing laboratory
mechanical workshop
biochemical laboratory (S2)
biological laboratory (S2)
microbiological laboratory (S2)
small animal test facility (S1)
Formation of the chair as "Abteilung für Experimentelle Zahnmedizin"
1964 – 1976 Prof. Dr. F. Bramstedt
1976 – 1979 provisional direction by Prof. Gehring
1979 – 1989 Prof. Dr. G. Siebert
1989 – 2006 Prof. Dr. R. Thull
2001 Renaming to "Department for Functional Materials in Medicine and Dentistry"
2006 – 2010 provisional direction by Prof. B. Klaiber
since 08/2010 Prof. Dr. J. Groll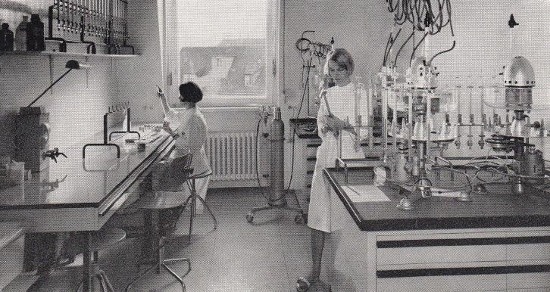 Würzburg is located in the heart of Europe, an 80 minute direct train ride away from Frankfurt airport, with direct flights to all major airports in Europe, the US and Asia. Further nearby airports are Nürnberg and Munich.
Würzburg is a historic city with the main attractions "Residenz", a UNESCO world heritage site, and "Festung Marienberg", a cultural landmark fortressing over the city center. The city is surrounded by vineyards where local wine makers grow the grapes for the famous Franconian white wines.
The Julius-Maximilians-University Würzburg was founded in 1402 and is the oldest University in Bavaria.
It has hosted many famous scientists with the most prominent example being Konrad Röntgen who discovered x-rays in 1895 at the Institute of Physics in Würzburg. Already in 1901, this discovery was honored with the first Nobel Prize in Physics. The actual place of discovery can be visited as a small memorial site, which was set up by preserving his original lab and is open to visitors. It is a 5 min walk from the conference venue (more information available at wilhelmconradroentgen.de/en/home).
As the University is the biggest employer in the city, it and especially it´s students shape the character of the city. Due to this it is a culturally rich and livable city with diverse leisure opportunities to be discovered.
Further information is available on the official website of the city of Würzburg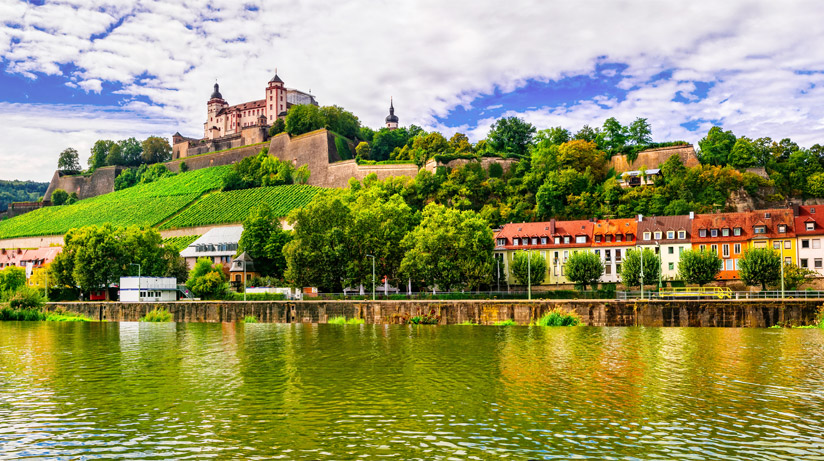 From Frankfurt to Würzburg:

For flight arrivals at Frankfurt airport there is a direct ICE train connection to Wuerzburg main station. If you land at Terminal 2, please pick up your luggage and use the Skyline Transfer Service to Terminal 1 (departing every 2 – 3 minutes). You will arrive at Terminal 1 on the level that the long distance trains depart from (level 2 departures). Please follow the signs to the long distance train station, about a 600 m walk. If you arrive in Terminal 1, after luggage pick-up you will be in the lower level (arrivals). Here are signs to railway that lead to the regional train station which will not directly bring you to Würzburg. For the long distance train station, you have to move two levels up to the upper departure level (automatic stairs and elevators are available). Here please follow the signs to the long distance train station, again about a 600 m walk. Please find maps of the airport below.
The DB Navigator APP is a very useful and reliable tool to plan train and public transport for the journey to Würzburg.
In Wuerzburg:
After arriving at Würzburg main station, the Department for Functional Materials in Medicine and Dentistry is positioned at the dental clinic in the city center and in walking distance.
Our address is:
Zentrum für Zahn-, Mund- und Kiefergesundheit des Universitätsklinikums Würzburg
Abteilung für Funktionswerkstoffe der Medizin und Zahnheilkunde
Pleicherwall 2
D-97070 Würzburg
Last Updated on June 3, 2022