chemical synthetic laboratories
physical laboratories
material testing laboratory
mechanical workshop
biochemical laboratory (S2)
biological laboratory (S2)
microbiological laboratory (S2)
small animal test facility (S1)
Chemical Analysis

FT-IR
ICP-MS
Karl-Fisher-Titration
Maldi-ToF
Osmometer
RAMAN
IV-Vis

Chromatography

HPLC Shimadzu
Malvern GPC (Chloroform)
Malvern SEC with MALS (Aqueous Buffers)
Omnisec GPC (DMF)

Mechanical Analysis and Rheology

Dynamic mechanical Analysis ElectroForce 5500
Nanosurf Flex-FPM
Universal Testing Machine Zwick Roell Z010
Anton Paar Rheometer

Particle Analysis

Laserdiffractometer Horiba LA 300 Wet
Nanoparticle Tracking Analysis NTA, NS300
Zetasizer Nano-ZSP Malvern

Physical Analysis

Mercury Porosimetry
XRD Röntgendiffraktometer D5005

Surface Analysis

Contact Angle and Contour Analysis Dataphysics OCA 15
Nanosurf FlexAFM
SAW Sam5blue
Spincoater
3D Printer

RegenHU Bioprinter
Inkredible 3D bioprinter
Replikator X2 / Makerbot Industries
Pulverdrucker  ZP310
Stereolithography Amber
Stereolithography Envisiontec

Melt Electrowriting

7 custom-built melt electrowriting printers

Processing

Compounder
Cryo-Mill
Freezedryer
Laser Cutter
Pilot-Freezedryer
Custom-built Solution Electrospinning Device
Planetary ball mill
Furnaces for up to 1500°C in air for calcinating and sintering of powders

Synthesis and Purification

Benchtop Incubator
Glovebox
Microwave Synthesis
Night hood
Sonicator
Completly equipped cell culture laboratory (S2)
Microplate Reader (absobtion, luminescence, fluorescence)
qRT-PCR
Histology equipment for hard tissues
Cryostat
Electron Microscopy

Crossbeam electron microscope Zeiss XB 340 with Cryo stage
Tabletop SEM Hitachi

Light Microscopy

Fluorescence microscope Zeiss Axis Imager.M1
Zeiss stereomicroscope Discovery V20 (transmission, diffusor, ringlight)
Inverse microscope Zeiss Axis Observer.Z1
Formation of the chair as "Abteilung für Experimentelle Zahnmedizin"
1964 – 1976 Prof. Dr. F. Bramstedt
1976 – 1979 provisional direction by Prof. Gehring
1979 – 1989 Prof. Dr. G. Siebert
1989 – 2006 Prof. Dr. R. Thull
2001 Renaming to "Department for Functional Materials in Medicine and Dentistry"
2006 – 2010 provisional direction by Prof. B. Klaiber
since 08/2010 Prof. Dr. J. Groll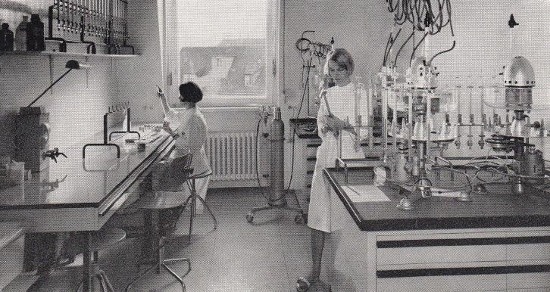 Würzburg is located in the heart of Europe, an 80 minute direct train ride away from Frankfurt airport, with direct flights to all major airports in Europe, the US and Asia. Further nearby airports are Nürnberg and Munich.
Würzburg is a historic city with the main attractions "Residenz", a UNESCO world heritage site, and "Festung Marienberg", a cultural landmark fortressing over the city center. The city is surrounded by vineyards where local wine makers grow the grapes for the famous Franconian white wines.
The Julius-Maximilians-University Würzburg was founded in 1402 and is the oldest University in Bavaria.
It has hosted many famous scientists with the most prominent example being Konrad Röntgen who discovered x-rays in 1895 at the Institute of Physics in Würzburg. Already in 1901, this discovery was honored with the first Nobel Prize in Physics. The actual place of discovery can be visited as a small memorial site, which was set up by preserving his original lab and is open to visitors. It is a 5 min walk from the conference venue (more information available at wilhelmconradroentgen.de/en/home).
As the University is the biggest employer in the city, it and especially it´s students shape the character of the city. Due to this it is a culturally rich and livable city with diverse leisure opportunities to be discovered.
Further information is available on the official website of the city of Würzburg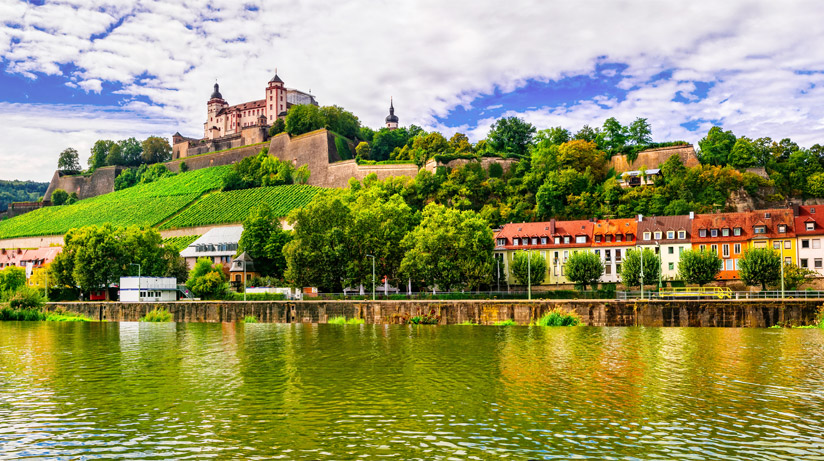 From Frankfurt to Würzburg:

For flight arrivals at Frankfurt airport there is a direct ICE train connection to Wuerzburg main station. If you land at Terminal 2, please pick up your luggage and use the Skyline Transfer Service to Terminal 1 (departing every 2 – 3 minutes). You will arrive at Terminal 1 on the level that the long distance trains depart from (level 2 departures). Please follow the signs to the long distance train station, about a 600 m walk. If you arrive in Terminal 1, after luggage pick-up you will be in the lower level (arrivals). Here are signs to railway that lead to the regional train station which will not directly bring you to Würzburg. For the long distance train station, you have to move two levels up to the upper departure level (automatic stairs and elevators are available). Here please follow the signs to the long distance train station, again about a 600 m walk. Please find maps of the airport below.
The DB Navigator APP is a very useful and reliable tool to plan train and public transport for the journey to Würzburg.
In Wuerzburg:

After arriving at Würzburg main station, the Department for Functional Materials in Medicine and Dentistry is positioned at the dental clinic in the city center and in walking distance.
Last Updated on September 7, 2021